Symptoms
I no longer wish my asset to be a part of the Asset Store
Cause
You may no longer wish to have your asset on the Asset Store for a few reasons. Whether it is because your newer assets are of a better quality, or because you wish to pursue a different line of work, you can deprecate your assets through your Publisher Login area.
Resolution
Publishers are able to deprecate their own assets from within their Publisher area. This means that the assets are removed from the Store and new purchases will not happen. Since it is not a hard disable, users that have already purchased can still download if they need to.
To deprecate your asset, please follow this process:
1) Log in to your Unity "Publisher Account".
2) Select the "Packages Tab".
3) Select the "Published" view from the drop down menu in the top right corner.

2) Go to the Packages tab and click on the name of the asset you wish to disable.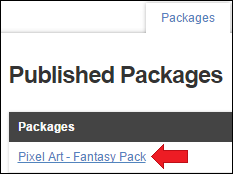 3) Scroll down the page and click the 'Deprecate package' button.