Symptoms:
A package on the Asset Store says 'Extension Asset: One license required for each individual user', how is this different from other packages?





I want my whole team/ more than one person to have access to an Asset but on the Asset Store description, it says I need to purchase one licence per seat.
Cause:
-
Resolution:
If you are buying an Extension Asset, you will be required to purchase multiple copies (seats) for the Asset if multiple users will have access to it.
Any Asset categorized in the Asset Store as an "Editor Extension" "Scripting", or "Services", are collectively known as an "Extension Asset".
When purchasing the Extension Asset, you will be able to change the quantity via the shopping cart. This number represents the quantity of seats/ copies, and the Asset's cost is per seat.
If you already own the Extension Asset, but need to purchase more seats, you can do so:
Sign in to your Unity ID you used to purchase the Asset.

Open the Asset Store and find the Asset you want to purchase again.

Click the 'Download' button on the Asset page.

An option will be displayed allowing you to purchase more seats by changing the quantity.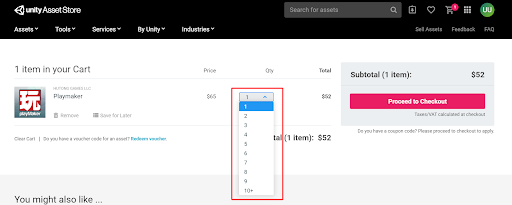 Once you have purchased multiple seats (copies) of an Asset, you can allow team members to use the Asset without any issues.
More information:
Transfer an Asset from one account to another
What does 'Multi Entity' & 'Single Entity' mean?