Important
Before deleting your Unity ID, please be aware that you will permanently lose access to all Unity purchases & services. This process does not cancel any ongoing subscriptions, is irreversible, and is done so at your own risk.
Symptoms:
I want to permanently delete my account and remove all data Unity has for me.
What am I losing if I delete my Unity account?
Will I still be able to use the Unity Forums if I delete my Unity ID?
Can I still use Unity Services if I delete my Unity account?
Resolution:
Deleting your Unity account means that you'll no longer have access to any Unity Service, including, but not limited to; Asset Store purchases, invoices, settings, and wishlists. Unity Gaming Services subscriptions, data, projects & invoices. Unity Forums & community sites.
Important: Before requesting to delete your Unity ID, please ensure that all Unity & Unity Gaming Services subscriptions are canceled & expired. Requesting to delete your account does not relieve you of your financial obligations.
You can request to delete your account from the Account Management section at id.unity.com. Follow these steps:
Navigate to id.unity.com, and sign in using your Unity credentials.
Click My Account > Settings on the left-hand side of the page.
Scroll down the page. Under Account Management, click Request to Delete Your Account.

A window appears detailing how to delete your account, alongside important information about the process.
Click Delete account.

A window appears to confirm the deletion of your account. Fill out the requested information > Next. On the Confirmation step click Delete.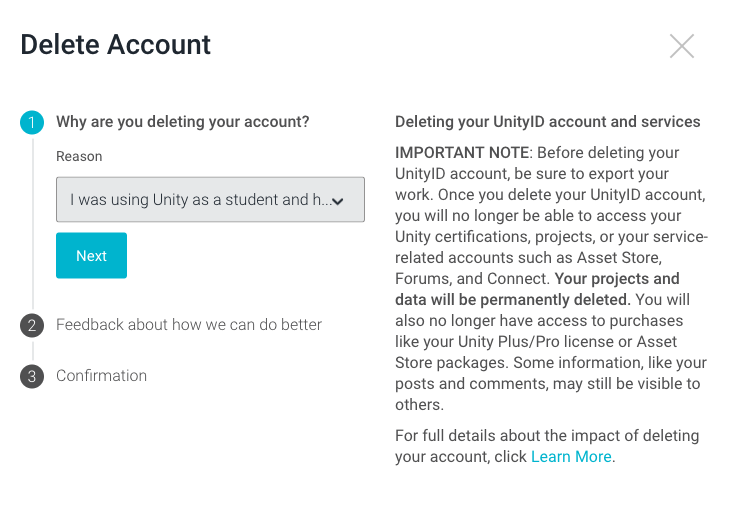 This immediately deletes your account and marks all of your information for deletion.
If you have any open or recent purchases on your account, your account deletion may not be immediately processed. Instead, a dialogue box will appear for you to refer this to our DPO team with an option to include a message which is sent to dpo@unity3d.com
This team manually process your deletion within 30 days unless there are any issues that arise with your request. Should any issue arise, your request is forwarded to the Customer Experience team for further investigation.