Symptoms:
I am making purchases in the Asset Store, but I am a member of more than one Unity organization.
I would like to be able to switch my organization before making an Asset Store purchase.
I would like to purchase an asset using my company organization instead of my personal one.
I would like to be able to assign asset seats to my team, who are not members of my default organization.
Cause:
All
Unity users have a default Unity organization that is personal to them. Many Unity users may also have company or team organizations associated with their Unity ID accounts that they have created separately or have been added to.
You may need to purchase through a company account to give colleagues access to the assets you buy.
Resolution:
To switch your organization before making an asset purchase, follow the steps below:
Important: The organization switch feature does not currently support the use of Asset Store vouchers. All assets purchased using an Asset Store voucher code, be that provided by Unity, or an Asset Store publisher, will be associated with your default organization.
Login to your Unity account on the

Asset Store.

Click on the dropdown arrow next to your account information in the top right-hand corner of the screen.

Click on the dropdown arrow shown next to

Switch Organization

to reveal a dropdown list of available Organizations you can switch to.



You can also double-check you are purchasing under the correct organization during checkout, as your chosen organization will be listed under the
Organization
header as shown below: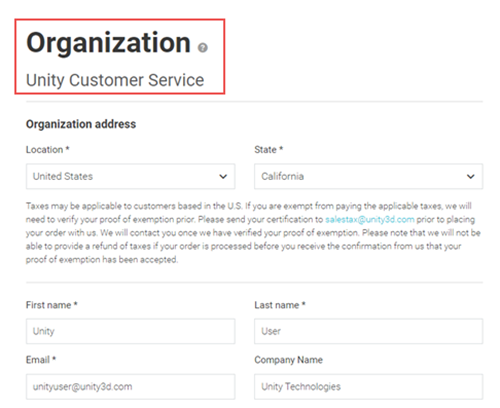 More Information: