Symptoms
I would like to offer a discount on my asset.
Am I allowed to offer a discount on my asset outside of the official Asset Store sales?
Can I create a personal sale?
Cause
You would like to lower the price of your existing asset. This could be part of a plan to increase sales. Alternatively this could part of a deal you would like to offer to your customers outside of a Unity official sale.
Resolution
You are able to personally discount your assets on the Asset Store as part of a self managed promotion or marketing campaign. There are, however, rules in doing so.
Please see the following set of rules you must abide by should you decide to host a personal sale:
The only place on your asset page that you can state the discount is in the descriptive text of the asset. Any changes to artwork, such as banners or logos that draw attention to a separate 'sale' to the Asset Store's own sales, are prohibited.
Personal sales can not last longer than a two week period. Failure to restore your original price within two weeks may result in any mention of a sale being removed from your products details without notice.
Sale periods should be separated by at least 2 months.
Details of your sale must be provided in your description text. The sale period and regular price must be mentioned.
You are not allowed to include any sale related graphics throughout your package's imagery.
You may not promote your product as being included in any sales or features hosted by Unity Technologies that you are not officially included in.
To be considered for an official Unity organized sale, your package must maintain a consistent price for at least 2 months prior. A price increase due to a large update will not disqualify you from being included in a sale.
After being included in an official sale, your package price must not be reduced for at least 6 weeks.
New assets may begin on sale for the first two weeks of launch, as long as this sale is stated in the product description with the regular price listed.
You can change the price of your asset via the publisher dashboard. Prices can be changed within the Packages tab. Make sure to state the price change in the version changes text box and the new price in the Price USD box too. Please see the image below for guidance: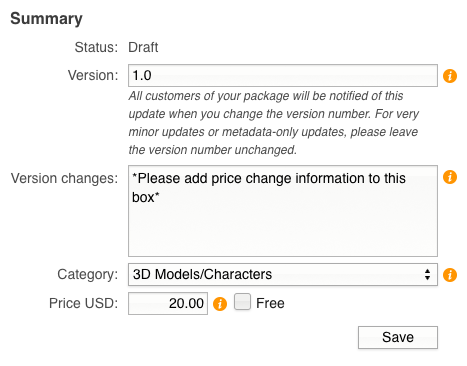 Next, you need to state the price change, for example: price 'to and from' and for how many days the price is being reduced for in the Description text box which is located by clicking Edit under Metadata on the Packages tab as seen below: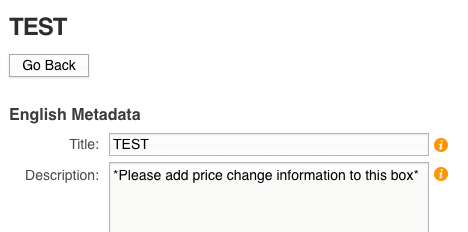 Once you have added the new price changes to your asset for submission, your asset is reviewed by the Asset Store team similarly to a new update. Once approved, the changes appear in the Asset Store.
More Information
Please note: When discounting your own assets on the store, the asset will not have a 'Sale tag' or the previous amount which the asset was priced at displayed, for example, "Was $20.00, now $15.00". These are only used for official Asset Store sales.